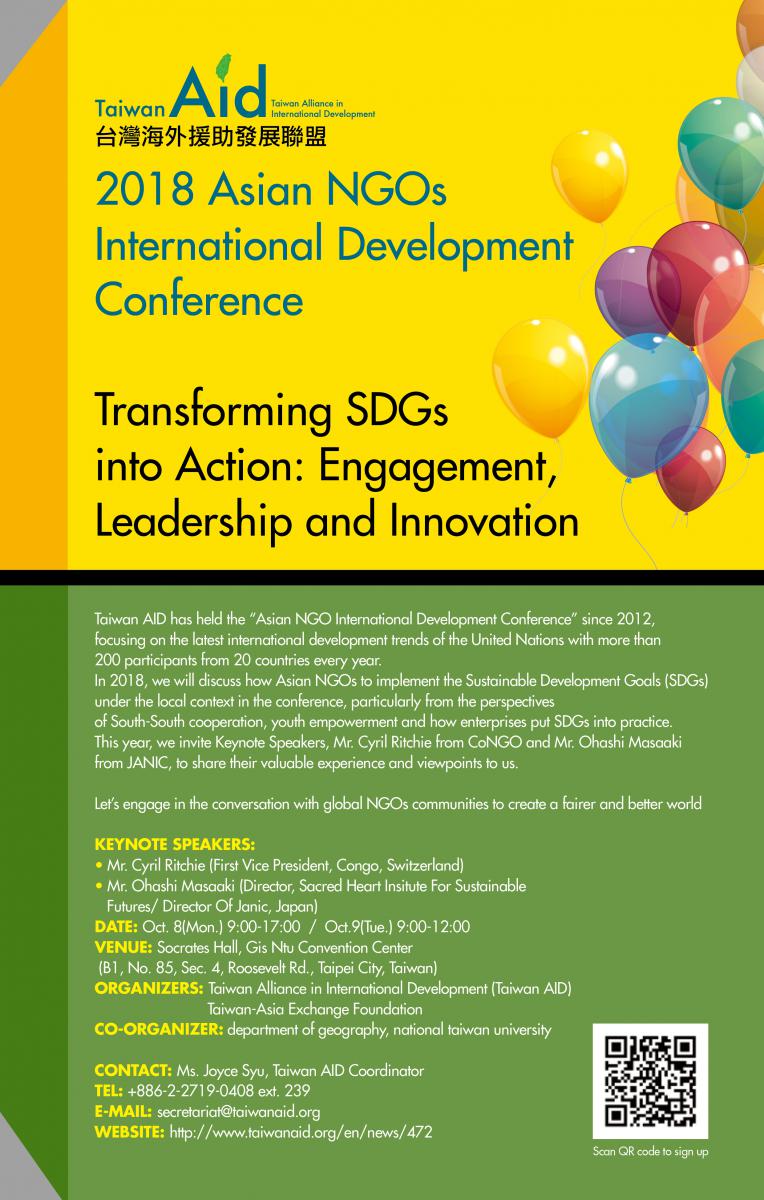 Taiwan AID has held the "Asian NGO International Development Conference" since 2012, focusing on the latest international development trends of the United Nations with more than 200 participants from 20 countries every year.
In 2018, we will discuss how Asian NGOs to implement the Sustainable Development Goals (SDGs) under the local context in the conference, particularly from the perspectives of South-South cooperation, youth empowerment and how enterprises put SDGs into practice.
This year, we invite Keynote Speakers, Mr. Cyril Ritchie from CoNGO and Mr. Ohashi Masaaki from JANIC, to share their valuable experience and viewpoints to us.
Let's engage in the conversation with global NGOs communities to create a fairer and better world!
●Keynote Speakers:
Mr. Cyril Ritchie (First Vice President, CoNGO, Switzerland)
Mr. Ohashi Masaaki (Director, Sacred Heart Insitute for Sustainable Futures/ Director of JANIC, Japan)
● Date: Oct. 8(Mon.) 9:00-17:00  /  Oct.9(Tue.) 9:00-12:00
● Venue: Socrates Hall, GIS NTU Convention Center (B1, No. 85, Sec. 4, Roosevelt Rd., Taipei City, Taiwan)
●Registration Fee:500 NTD (
Invited guests are free of charge)
●Target Participants: NGO Workers、Citizens or Students who are interested in international development and SDGs topics.
●Registration Link:https://goo.gl/forms/XALVx4UENv3jMKzc2
The Conference will be proceeded mainly in English. English-Chinese simultaneous interpretation is available.
● Organizers:     Taiwan Alliance in International Development(Taiwan AID)
                            Taiwan-Asian Exchange Foundation
●Co-organizer:   Department of Geography, National Taiwan University
Contact: Ms. Joyce Syu, Taiwan AID Coordinator
Tel: +886-2-2719-0408 ext. 239                                        
E-mail: secretariat@taiwanaid.org
● Tentative Agenda:
Oct. 8(Mon.)
Time

Session

Topic & Speaker(s)

Morning Time

Registration

Opening

Opening Remarks:

Ms. Rebecca Wang (Chairperson, Taiwan AID)

Welcome Remarks:

Distinguished Guests

Keynote Speech I

Topic: Transforming SDGs into Action

Moderator: Dr. H.H. Michael Hsiao (Chairman, Taiwan-Asia Exchange Foundation)

Speaker: Mr. Cyril Ritchie (First Vice President, CoNGO, Switzerland)

Coffee Break

Panel Session I

Topic: South-South Cooperation

Moderator: Dr. H.H. Michael Hsiao (Chairman, Taiwan-Asia Exchange Foundation)

Panelists:

1.Dr. Shiuh-Shen, Chien (Professor, Dept. of Geography, National Taiwan University, Taiwan)

2.Ms. Priti Darooka (Executive Director, PWESCR International, India)

3.Mr. Thilak Kariyawasam (Executive Director, Sri Lanka Nature Group)

4.Ms. Estrella Catarata (Representative of The Reality of Aid)

Lunch Break

Afternoon Time

Panel Session II

Topic: Private Sectors Engagement and Implement SDGs

Moderator: Mr. Chien-wen Mark Shen (Director, Yunus Social Business Centre , Taiwan)

Panelists:

1.Mr. Daniel You (Vice General Manager, Feng Tay Enterprises Co, Ltd., Taiwan)

2.Dr. Rangaswamy Elango (Ex. President of Kuthambakkam Village, India)

3.Ms. Isabelle Morin (Director of Singapore, CSR Asia) (TBC)

Coffee Break

Q&A

Wrap-up Session

Moderator: Rebecca Wang (Chairperson, Taiwan AID)
Time

Session

Topic & Speaker(s)

Morning Time

Registration

Keynote Speech II

Topic: Youth Empowerment and Innovation

Moderator: Mr. Jay Hung (Executive Director, Taiwan AID/ CEO, Zhi-shan Foundation Taiwan)

Speaker: Mr. Ohashi Masaaki (Director, Sacred Heart Institute for Sustainable Futures, Japan)

Coffee Break

Panel Session III

Topic: Youth Empowerment and Innovation

Moderator: Mr. Katsuhito Okubo (Co-Chair of the Board, Japan Youth Platform for Sustainability)

Panelists:

1.Mr. Gino Zhang (Founder and Chairperson, Zhengzhou Heqin youth volunteer center, China)

2.Ms. Hoang Phuong Thao (Country Director, ActionAid Vietnam)

3.Mr. Jinsu Yom (President, Better World, Korea)

4.Mr. Liang Yi Chang (Co-Founder, Plan b, Taiwan)

Closing Remarks

Afternoon Time

Lunch Break (Invited guests only)

Site Visit (Invited guests only)
Category: